Francis Marion Hotel in Charleston has been at the heart of the city's social, business, and community life since opening in 1924. Generations of Charlestonians have marked the important milestones in their lives in our historic ballrooms. Whether you are planning a wedding reception, fundraiser, awards banquet, or a gala ball, the Francis Marion Hotel ballrooms, with their 24-foot ceilings and antique crystal chandeliers, will create an elegant backdrop for your next event. In addition to our two grand ballrooms, the Francis Marion offers a 4,500-square foot conference center, the Carolina Ballroom, and eight smaller meeting rooms. Our meeting rooms are equipped with high-speed Internet connections and the latest audio-visual equipment provided by our onsite audio-visual company.
With a total of 19,000 square feet of meeting and banquet space, the Francis Marion Hotel is your ideal choice when planning your next meeting.
CONFERENCE ROOM INFORMATION
THE COLONIAL ROOM/LOBBY LEVEL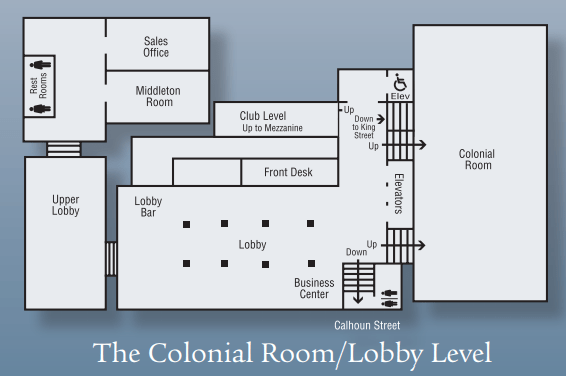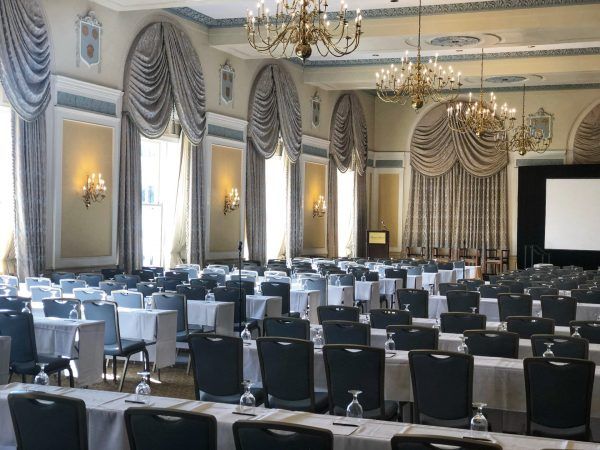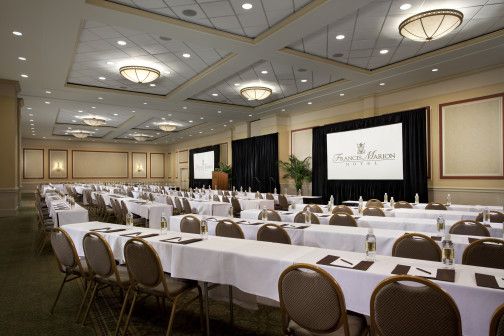 GOLD BALLROOM/SECOND FLOOR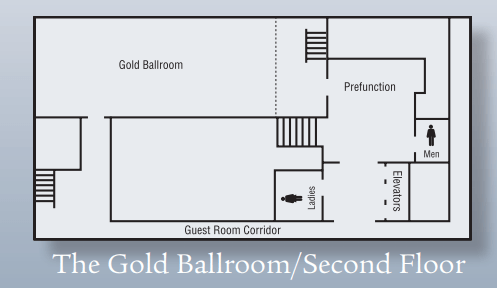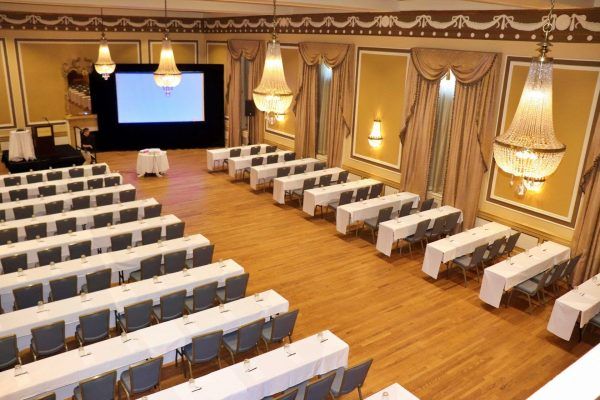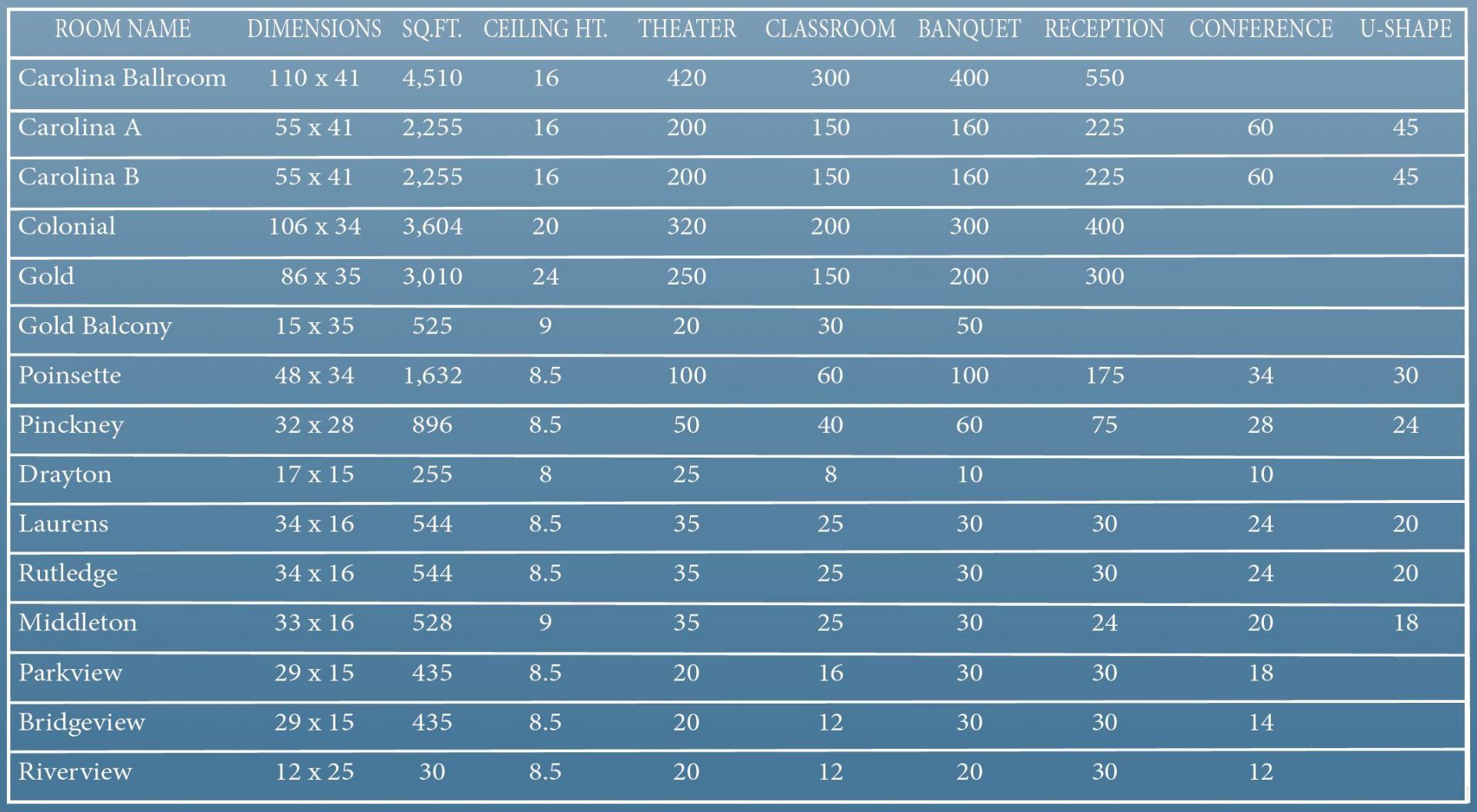 The Francis Marion catering staff has created a wide range of menus and a la carte selections to make your event unique. From a light luncheon to sit-down dinner for 200, you are sure to find the perfect menu.
The catering staff has also developed a series of specialty theme menus to help meeting planners create a vibrant and memorable event. Much of our menu features regional specialties to help bring a true Charleston flavor to events. Try our Shrimp and Grits, Crab Cake, or Chicken and Waffle Stations. Along with our specialty menus the hotel also has entire theme events, including props, such as "The Roarin 20s", "Luau in Charleston", "Mardi Gras", "Southern Garden Party", and more.
OFF-SITE CATERING
Southern hospitality is our specialty
Exceptional catered events sometimes require a unique location. Historic Charleston offers a myriad of incomparable sites to either launch or conclude your conference, thereby creating wonderful memories for your attendees.
The Francis Marion's distinctive catering offers customized menus to fit your theme, and our pricing includes china, glassware, flatware, tables, centerpieces and linens. Your designated catering manager will be your one stop shop for a successful offsite event.
Rest assured, our clients benefit from the same attentive full service planning and execution as they would for an on-site event. Let's work together and create a festive Charleston experience.
MARION SQUARE
Adjacent to the hotel
Previously known as the Citadel Green, Marion Square is a 10 acre rectangular plot of land conveyed to the South Carolina colony in 1758. The park is located directly across the street from the hotel.
Capacity: varies
CHARLESTON VISITOR'S CENTER
375 Meeting Street
This building was a railroad depot (circa 1856) and has been transformed into the City's reception center. The interior has many exhibits to view and has original floors and beams.
Capacity: Inside-450 reception, 220 dinner
SOUTH CAROLINA AQUARIUM
100 Aquarium Wharf
The South Carolina Aquarium overlooks the Charleston Harbor and is the place to experience South Carolina's aquatic habitats from the mountains to the sea. It has many different types of settings for reception and dinners.
Capacity: 2316 Reception, 500 dinner
CHARLESTON MARITIME CENTER
10 Wharfside Street
A waterfront facility located in the peninsula's edge of the historic district. A large room is available upstairs and the outside patio is ideal for large parties. Docks available.
Capacity: 1,500 reception, 100 dinner
THOMAS BENNETT HOUSE
69 Barre Street
This building is an outstanding example of Federal style architecture, built in 1825. One unique feature is the elliptical staircase, which extends with no visible means of support to the second floor. A beautiful garden and lawn is available.
Capacity: 220 reception, 60 dinner
GIBBES MUSEUM OF ART
135 Meeting Street
The Gibbes offers a fine collection containing a nationally significant collection of American painting reflecting Charleston's past and present and is a source of community pride. From portraits and landscapes of the colonial south to the era of Gershwin's opera, "Porgy and Bess," and the preservation of America's most beautiful city, visitors come face to face with Charleston's history. Of special importance at the Gibbes is the country's premier collection of jewel-like miniature portraits.
Capacity: 600 reception, 200 dinner
OLD EXCHANGE BUILDING
122 Bay Street
This building, completed in 1771, was built with materials brought over from England. With its striking Paladin architecture, the Exchange dominated the harbor. It became the social, political and economic hub of the bustling 18th century port and stands today as one of the three most historically significant buildings of colonial America. American Patriots were held prisoner in the Provost dungeon located in the basement and is open for touring.
Capacity: Whole Building-400 reception or Grand Hall-220 reception, 110 dinner
These are only some of Charleston's unique venues where the Francis Marion Hotel can cater. If you are interested in an off-site event please contact the sales office at 843-722-0600 for more information. Pricing varies dependant on the location.