To Our Francis Marion Hotel Community,
We have had the honor of being a part of the historic Charleston community for 96 years. From weddings, to college move-ins, graduations, conferences, family reunions and vacations to the beautiful Charleston area, we have experienced it all with our guests. The Francis Marion Hotel is passionate about telling the story of our community & the city that we are lucky enough to call home. We simply could not be the Francis Marion Hotel that we have grown to be throughout the years without your support.
During this difficult time that the world is experiencing, we face new obstacles. With a lot of deliberation, we have made the decision to temporarily close the Francis Marion Hotel effective March 27, 2020. We know that this decision is the right one for the greater safety, health and good of our guests & staff.
Charleston as well as the Francis Marion Hotel have seen turbulent times before and we have endured. Although this time in everyone's lives may be new, it is in our hope that we will come out stronger on the other side.
The Hotel currently has a tentative re-open date of June 1, 2020. When the time is right, we will reopen for our guests and community, to continue the tradition that the Francis Marion Hotel has held strong for almost a century.
For additional information and updates please continue to check our website for updates.
Additionally, stay connected with us on social media. Follow us on Facebook here & Instagram here.
WELCOME TO OUR HOTEL
Named for Revolutionary War hero Francis Marion (the "Swamp Fox"), the Francis Marion Hotel became an instant Charleston landmark when it opened in 1924. Rising 12 stories above the Historic District, the hotel offers spectacular views of Charleston's church steeples, antebellum mansions, and famous harbor, providing easy access to the wealth of Charleston's historic attractions.
An award-winning restoration in 1996 refurbished all of the 234 guestrooms and suites, which now feature plush furnishings and marble baths. Located downtown on Marion Square, the hotel is within walking distance of the magnificent gardens, house museums, antique shops, local boutiques, restaurants, and nightlife that has made Charleston one of the south's premier cities.
With such on-site amenities as Spa Adagio, the Swamp Fox Restaurant and Bar, Starbucks, and 18,000 square feet of meeting space, no one will fault you if you end up staying inside the Francis Marion Hotel for the duration of your stay.
Francis Marion Hotel, a member of Historic Hotels of America since 1999. 
Looking for the perfect gift for any occasion? Give the gift of a stay at the historic Francis Marion Hotel or a dinner at the Swamp Fox Restaurant.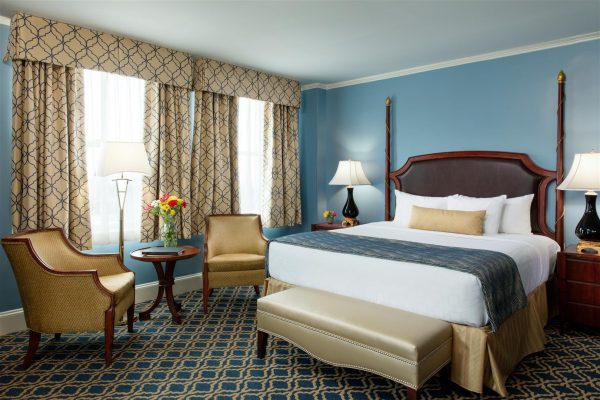 Historic Charm
Experience unsurpassed views of the historic harbor at the Francis Marion Hotel.
You may never want to leave your room!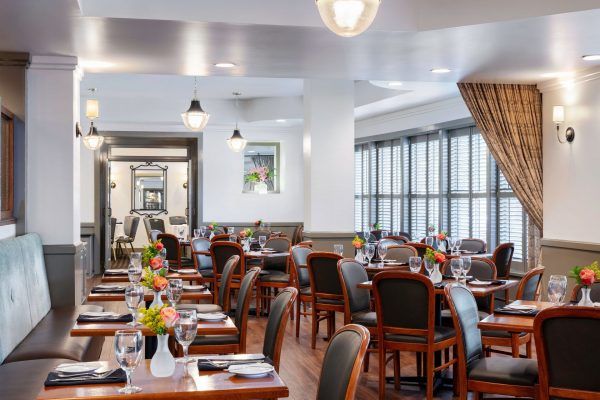 The Swamp Fox Restaurant and Bar
Named for Revolutionary War hero, General Francis Marion, features farm fresh sustainable ingredients showcasing Charleston's cuisine for breakfast, lunch, and dinner.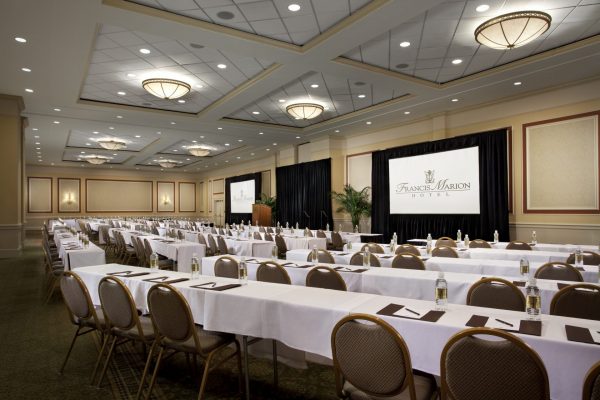 Add a little Southern Charm to your next meeting!
The Francis Marion Hotel offers everything you will need for an unforgettable meeting or conference in Charleston.

Day Spa
Spa Adagio blends friendly smiles, soothing aromas and relaxing sounds with an educated and experienced staff to guarantee you will leave feeling rejuvenated and renewed.
We look forward to seeing you soon!
Proud Memeber of