No matter how you envision your wedding day, there are so many ways to include sentimental nuances of your wedding day. To mark the occasion, a wedding favor is a fun way to make your guests feel special. Charleston-inspired favors are the perfect way to highlight your destination wedding or your beloved hometown. We've helped compile a few of our favorite Charleston Wedding Favors to consider or draw inspiration from.
Personalized Grit Bags
Who doesn't love a favor that includes food? Personalized grit bags, filled with locally sourced grits (we suggest Adluh Mills or Marsh Hen Mill) gives your guests the gift of creating their own dish at home! As a staple in a lot of Charleston dishes, these adorable grit bags are a great way to let guests travel back home and recreate Shrimp & Grits they may have while at you're wedding (view our catering menu & food menu options here!)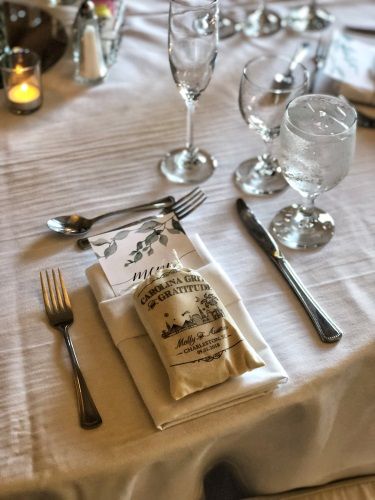 2. Local Spirit Mini Bottles
Having a signature cocktail at your reception? Have a memorable date at a Charleston distillery? Just love Sweet Tea? There are so many reasons as to why you could incorporate a Charleston made Mini-Bottle. We love having Firefly Distillery call Charleston home and they make an iconic Sweet Tea Vodka that is a must try by visitors and locals a like. If you are a couple who wants to share spirits for your wedding favor, including these cute mini-bottles with a recipe card is a great & local way to highlight Charleston!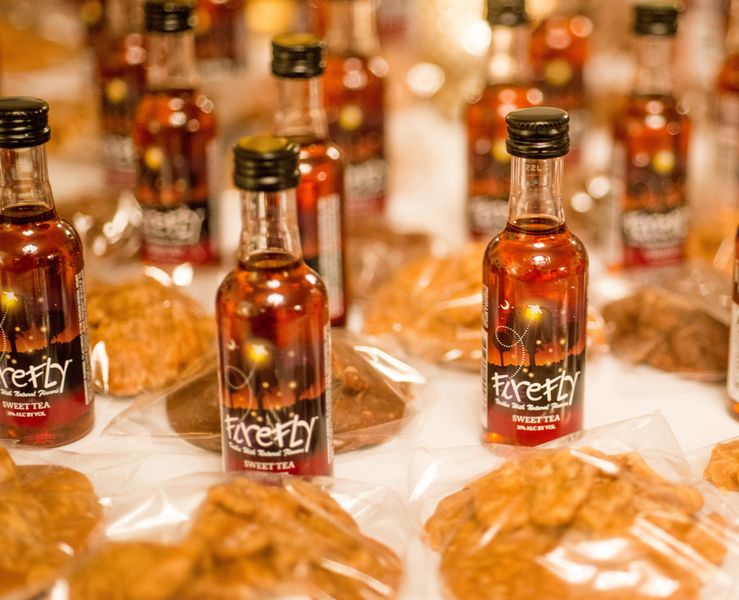 3. Local Honey
You two are meant to 'bee'! A cute way to incorporate Charleston is with some local honey. There are quite a few local honey brands to purchase this golden treat within the area. Petite mason jars with a personalized sticker on it is a simple and cute way to include a Charleston wedding favor. You could even include local tea from Charleston Tea Garden as the perfect pair. Here are a few local honey retailers to chose from:
Bella Bee Honey
The Bee Cause – sold at Savannah Bee Company
Check out Lowcountry Olive Oil to purchase local honey too!
4. Flower Seed Packets
Let your love to continue to grow! Charleston is home to so many beautiful blooms. Personalized seed packets are a great way to nod at Charleston's beauty, especially if you're having a spring wedding. Your guests will love having flowers to plant and you can even create the packets pretty easily on your own if you're feeling crafty.
5. Oyster Knives
A staple in Charleston cuisine are oysters. Whether they're raw, steamed or fried they're always accompanied by hot sauce, cocktail sauce or lemon (don't forget some saltines too!); oysters are truly loved in the area. The perfect favor to incorporate is with engraved oyster shucking knives! An ode to the bounty of the Lowcountry and a special way to commemorate you date. You can have the knives engraved with your date, name, initials- or whatever you find fitting!