Place cards play an important role in a Wedding Reception. Not only do they tell the guests where they are sitting, but they also tell the servers what they are enjoying for dinner.
This gives the couple an opportunity to be imaginative with their wedding theme.
Whether it is creative font, dramatic colors, photos, pictures of the couple, or not your standard card- this is a great way to impress your guests.
Below are some fantastic place cards we have seen at past weddings at the Francis Marion Hotel!
Tony & Alex – Tied Guests Names and Table Numbers to the stems of Champagne flutes.  Upon arrival, guests were greeted with cool, crisp Champagne to sip during cocktail hour.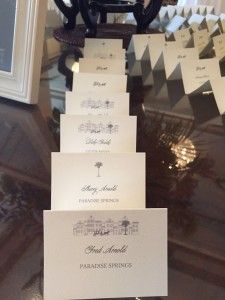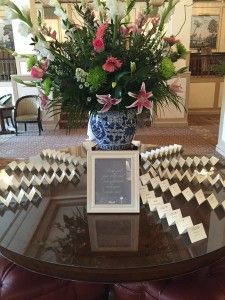 Preston & Lilly – Featured different drawings of Charleston. Guests received drawings of rainbow row, palm trees, horse & buggy, or lanterns.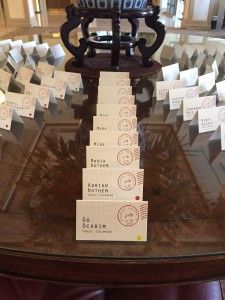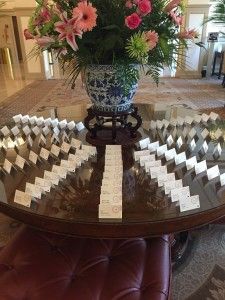 Neal & Julie – This couples wedding theme was travel. Their table names were cities and countries they had visited together. Their place cards resembled monogramed postage stamps.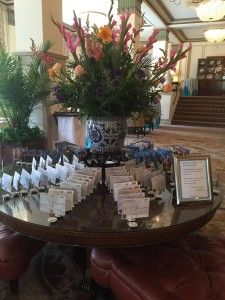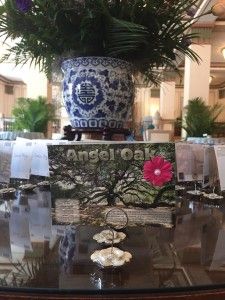 Chris & Sarah – Chose Charleston postcards for their guests. The Charleston location featured on the postcard, corresponded with the table name, such as Angel Oak, Patriots Point, Waterfront Park, or Fort Moultrie.