Hello to all my foxy followers!!  It was a BUSY weekend here in Charleston because Saturday, 4/5 was the 37th Annual Cooper River Bridge Run. This 10k race draws upwards of 40,000 people, and at least one fine Fox this year!  I got up extra early and caught a bus from downtown, over to the starting line in Mount Pleasant.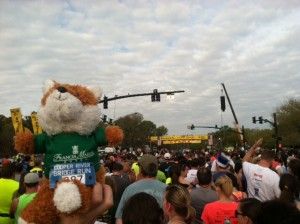 The run was tough, but I made it!  It is an amazing feeling to cross the beautiful Cooper River surrounded by fellow runners.  The view was almost as good as the view from my home at the Francis Marion Hotel.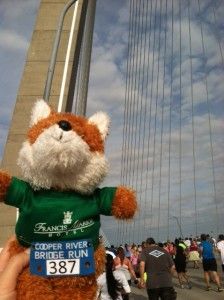 I even ran with two women who had each participated in the race at least 30 of the last 37 years – WOW!  Charleston does a great job putting on the run with plenty of water, lots of bands along the way and wonderful Charleston scenery, so who wouldn't want to come back each year?  After surviving the 6.2 miles, I was excited to relax at the Finish Festival in Marion Square Park (across from the Francis Marion).  With food stations, massages and live music, it was the perfect end to my race.  Plus, when I was ready to wind down, I was in the perfect location to head home for a nap!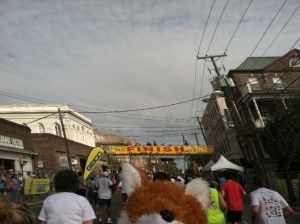 Hope to see you all on the bridge next year!