In keeping up with my adventures in Charleston, I ventured out to one of Upper King Street's fine new restaurants… Indaco! It was just a short walk from my home at the Francis Marion, located amidst several other hot spots north of the hotel. Indaco serves up rustic Italian entrees, wood-fire pizzas, pastas, housemade salumi and house-cured sausages and meats. Plenty of delicious options to feed a hungry fox!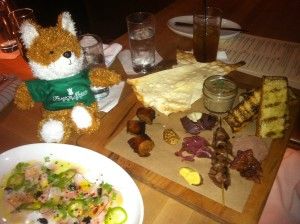 In addition to the a la carte menu, a family-style menu created by chef Michael Perez allows guests to enjoy the full spectrum of Indaco and partake in the shared dining customs of Italian cuisine. You know it will be a fine treat when you let the chef decide what you'll eat!
Don't worry, there is plenty to wet your pallet as well; they have an extensive list of Italian wines, unique cocktails and micro brews. Besides the delicious food and wonderful libations, the atmosphere was very comfortable and well appointed, and the service was exquisite, with a fine attention to detail.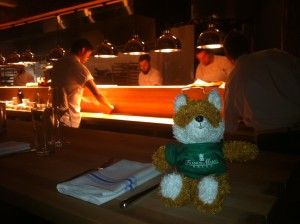 Plus… if this fox gets hungry late night, you bet I'll head back for a wood fired pizza since they serve them until midnight on Fridays and Saturdays!