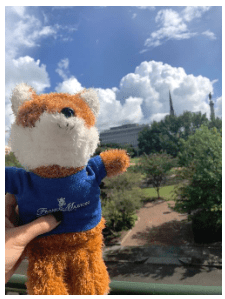 Charleston, the Francis Marion (and Sly) all survived Hurricane Florence untouched and have all remained their charming selves amidst the threat of the storm. Aside from the anticipation of the storm, the hotel has been busy with a slew of updates. Our King Street entrance got a facelift with new doors and painted tile, carpeting on stairs has been replaced and Starbucks is pending to open very soon!

The Holy City might not be in full swing of summer outside anymore but there is still so much to enjoy in September and early October besides the (hopefully) cooler temps. MOJA goes on from September 27 to October 7 right across the street at Marion Square. The MOJA Arts Festival is a multi-disciplinary festival produced and directed by the City of Charleston Office of Cultural Affairs. Most of the events are free as well. Oktoberfest  will be going on in so many locations across Charleston but join the one right next door to us at St. Matthews Cathedral on October 13th from 12-6pm. It's a family friendly event as well.
Start off your Halloween festivities early and enjoy the spookier side of Charleston, Bulldog Tours offers a variety of haunted (and non-haunted for the faint of heart) tours around the city. I suggest the Haunted Jail Tour personally. Check out our seasonal hotel packages that begin in early October for some great experiences-one of which includes a tour from Bulldog Tours! If spooky times are not for you, the Charleston Fall Tours of Homes, History & Architecture  begins October 4. Enjoy walking around Charleston in the cooler temperatures and less crowded streets. After all, fall time is Charleston's best kept secret.