Hello all!  Hope everyone is staying warm during this crazy winter weather!  Even if it gets a bit cold, it always seems to be beautiful here in Charleston.  With my fine fur to protect me from a chill, I ventured out onKing Street for lunch today.  I was in the mood for something warm and delicious, so I chose CO.  They offer Vietnamese cuisine featuring banh mi, ramen, pho, as well as a full bar.
I learned that in Vietnamese, "CO" is the word for "feast."  So, that is what I decided to do–feast upon all their treats!  Starting with some delicious dumplings, enjoying some fine pho, and finish up with a tasty chocolate torte.  I was a  happy fox!  The restaurant had a nice modern and comfortable setting with community tables and a good size bar.  And since they are open for lunch and dinner every day, I can go back anytime!  Next time I may try some happy hour specials which are offered 3-6pm, Monday-Friday.
You should check them out, it is an easy trot from my home here at the hotel…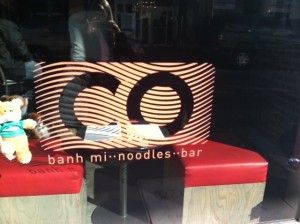 Bon appetit!