There's nothing quite like the Holy City in the summer. Long, beautiful days full of sunshine, picturesque moments on Rainbow Row and horse drawn carriages passing by. Visiting Charleston in the late summer boasts some of the best times to be in the city. Whether you're taking a last-minute vacation or moving your college freshman into housing at College of Charleston, there are many things to enjoy in the city through August and September.
Saturday mornings you will find the Charleston Farmer's Market taking place just right over in Marion Square. Over a hundred local vendors that include artists, musicians and farmers set up in the square from 8 am until 2 pm. Grab a coffee from Kudu Coffee  just down the street, wipe the sleep from your eyes and take a stroll in the, somewhat cool, morning air.  If you find yourself wanting to dust off your dancing shoes head down to Waterfront Park for Shaggin' on the Cooper. The park is just over the iconic Ravenel Bridge and features different genres of live music. Don't worry-they do sell alcoholic beverages at the event if you need some encouragement.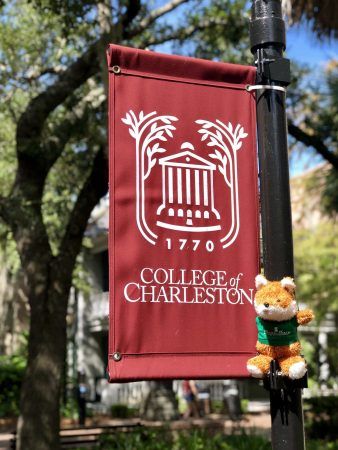 Students begin their move into College of Charleston's campus housing August 17-19. If you're a parent to a Cougar, your day may be spent hauling your college kid's things, but your night can be spent enjoying a relaxing dinner before saying your farewells. The Ordinary offers some of the city's best seafood and oysters. Hall's Chophouse is a staple in Charleston and is home to an infamous steak dinner. The Macintosh also offers a great dinner and wine selection. Treat yourself and your college student to a nice dinner at any of these establishments that are within walking distance from the Francis Marion. After all, this may be their last meal for a while that doesn't consist of dry cereal or ramen noodles.
If you're visiting Charleston not deeming yourself a 'foodie' you will be after your early September trip. Charleston Restaurant Week begins September 5 until September 16. Participating restaurants have special menus, promotions as well as discounts. Our very own Swamp Fox Restaurant will feature a special menu for the annual event.  Restaurant week also falls on another foodie festival, Charleston Beer Week. Craft breweries launch releases of new products, fun events and more food specials will be going on.  Get your fill of everything the city has to offer on your late summer visit- hot weather included at no additional cost. Welcome back the new and returning Cougars on your stay and be prepared to soak in all of Charleston's southern charm.